Paul Phillips, Assistant Baseball Coach at Covenant College 
Front Rush is sharing stories from coaches across all divisions and sports. Every coach's journey begins with the first six months. 
Phillips came to Covenant after spending two years overseas working in professional baseball. Prior to coaching, Phillips was a professional player and coach with the semi-pro team Füssen Royal Bavarians in Füssen, Germany.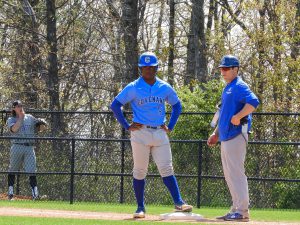 Why did you start coaching? 
I felt God calling me to be a coach from a young age. I was fortunate to be around some great coaches in my youth (including my Dad and my HS football coach, Beck Brydon) who infected me with their enthusiasm for their players, the game, and inspiring the team to accomplish more than they thought they could, while also pointing them to Christ.
In the beginning, what was the most challenging part of your job? 
My first year of college coaching was tough just trying to figure out how to teach and understanding how to use my time. As a coach, there is so much pulling you in so many directions — it is so much more than just planning practice. We don't have the luxury of having coaches for every specific function of the team that some of the SEC schools enjoy.
My biggest challenge was figuring out how to balance my time as an OF coach, working with our hitters and baserunners, being a recruiting coordinator, discipling our guys, and also excelling in my administrative role for our athletics department. Plus, leading my family and investing in them at the same time is a constant juggle. Definitely still trying to master all of these.
How has your coaching and recruiting style changed? 
As a recruiter, I used to talk a lot and try to have marathon conversations convincing everyone Covenant was the place for them. 
Now, I ask a lot of questions and try to keep my conversations short, just giving our recruits little tastes of what our program is about on a more consistent basis. I also try to vet them on the front end a lot more. 

As a coach, initially, I really worried about being liked and respected by everyone. I also struggled to find my coaching style. 

Now, I really try to focus on accountability with all our guys — even if it means being "the bad guy" for the moment because as they say, "what you permit, you promote." So in reality, I am NOT loving my guys if I am not holding them to the standards of our culture and our savior. 

When it comes to coaching technique, I try to talk less and just create environments where they have to elevate and adapt their skills to match the goal for that specific exercise and design it so that skill will translate to the game. 
What's the best advice you've gotten as a coach?
A lot to sort through here, but my favorites are: 

"Your #1 job is to love your players and model the life you want them to live." 

"Be good where your feet are." 

"When there is a void in communication, negativity fills the gap." 

"Never stop learning."
What advice do you have for coaches in the beginning of their career?
Other than the mantras I just shared:

1. Pray regularly — especially for your players. 

2. Figure out how to manage your time efficiently. 

3. Take ownership — ownership of your role and doing everything you can to help your players succeed and take ownership of the mistakes you make and the ones your players make.