Danny Evers, Assistant Track & Field Coach at Monmouth College
Front Rush is excited to share stories from coaches across all divisions and sports. Every coach's journey begins with the first six months.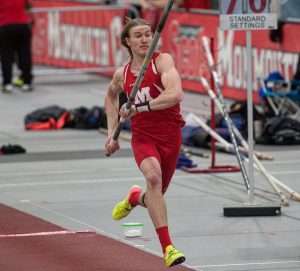 Why did you start coaching?
As an Environmental Science major, coaching never crossed my mind throughout college. I decided that after my athletic career (senior year, May 2018), I could not give up on something I cherished so much. A full-time assistant coaching position opened at my alma mater that I was not going to pass up. Track and field has been a huge part of my life which is why I was 100 percent confident in my decision to follow my passion and love for the sport!
Can you tell us about the transition from athlete to coach? 
The transition from athlete to coach has been unique so far. It is a slightly different role for past teammates (and now current athletes), but they still look up to me the way they did in previous years when we competed side by side. An obvious but substantial lesson I have learned so far is to listen to the older coaches since they know the program. They are such a critical source, which is why newer coaches should take advice from them as much as possible and ask questions! 
What's been the most challenging and rewarding part of your job?
This job has been nothing but an amazing experience so far, and I am so fortunate to be in the position that I am now. The most challenging part so far has been the amount of hours coaches put into work behind the scenes. As an athlete, one does not realize how much time and effort coaches put into their teams. From recruiting, to practice planning/researching new techniques, all create a successful program which would clearly be the most rewarding part of coaching.
What goals have you created for your coaching career?
Some immediate long-term goals of mine is to coach individuals and teams to beat my records and achieve much more success than I have in my athletic career. I was a 2x DIII National Pole Vault Champion, and 6x All-American with our indoor/outdoor school records. My collegiate team was also very successful, winning all but one conference championship (7 total team Midwest Conference titles). My goal is to recruit and coach a jumper to excel past my accolades while winning as a team consecutively!
Do you have advice for coaches just starting out?
Take advice from other coaches with experience! Not only coaches in your own sport, but also coaches in different sports. For example, I've collected some amazing recruiting tips from a lot of coaches at our college. The women's soccer coach and our head cross country coach host call nights on Wednesday nights where we call recruits together. Get in close connection with these types of committed coaches and learn from them because they are most likely successful as well.