Abby Jump, Assistant Basketball Coach at Wright State
Front Rush is excited to share stories from coaches across all divisions and sports. Every coach's journey begins with the first six months.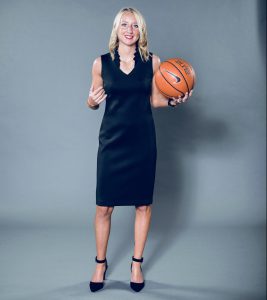 ---
Why did you decide to start coaching?
I started coaching for a number of reasons. One, it runs thick in my blood so-to-say. My grandpa was a high school football coach who won several state championships and my dad was a high school boys basketball coach and was also successful. Growing up, I met their former players and listened to how both my grandpa and dad impacted their lives.

The second reason, a handful of my own personal coaches throughout my career. From grade school through college I was fortunate enough to be taught by several individuals who greatly impacted my life. In particular, my coaches are Wright State. They challenged me, they helped me achieve goals I didn't think reachable and most importantly they set me up for life after basketball. In essence they molded me into the person I am now. And because of that impact, it opened my eyes to what a coach can truly do for a student-athlete.

Which leads me to the third and most important reason. I have the opportunity to be a life coach who teaches basketball, help players reach their athletic and personal goals that were never on their radar and then watch them walk across the stage and be even more successful in life after college. Nothing is better than that.
What went into your decision to coach at your alma mater?
Wright State is home! In the recruiting process, I have always believed, if you choose the right place and right people that your alma mater will not just be where you played or lived for a certain number of years, it will be a home to you forever. It has been a dream to do two things in my career, coach on the sidelines of Wright State and to work for Katrina Merriweather.

I've been here for a handful of months, yet it still is surreal some days! Coach Trina has been a mentor to me since I was a 18 years old and has been such an impact in my career thus far. There aren't too many people who get to coach at their alma mater and I am very blessed to do so. It's the perfect way to give back to the program that gave so much to me.
What was the most challenging part of your job when you first started?
The most challenging part was the time. As a player, you only see what coaches want you to see. You never see the late nights in the office, the traveling, the player management. As a player you meet recruits on visits but never understand the work it takes to recruit the right players for the program. It made me appreciate my coaches more after the first week!
What goals did you create in those 6 months?
I just wanted to be the best person for the job. I wanted to make sure every day I was doing the job to the best of my ability. Few things are heavy when everyone lifts in a successful program and my biggest goal in those first 6 months was to make sure I was holding up my end of the bargain and doing whatever was needed to be done for the sake of the program.
If you could go back to those first 6 months of coaching, what would you tell yourself? 
BE A SPONGE! Knowledge has no ceiling. The greatest thing about this job is that you can always learn something new, you can always improve. Self-assessment is vital to your own growth and to the player's and team development as well.

One of the most important things I was told in my first year that I will take with me for the rest of my career. Never worry about the next place or next job. The best job you have is the one you have now and if you do that well enough the next job will come find you.