Abby Shiffler, Head Women's Soccer Coach at Ramapo College
Front Rush is excited to share stories from coaches across all divisions and sports. Every coach's journey begins with the first six months.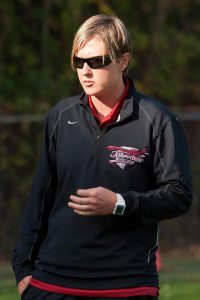 ---
Why did you decide to start coaching?
After graduating college, I had a bunch of different jobs.  I liked most of them, but no matter what I was doing, I felt there was something missing.  And I realized that I truly missed the game. I missed being on the field and the competition.
How'd you get started?
My first coaching job was at FDU Florham in 2007.  My graduate assistant coach from Monmouth, and good friend had recently got the head coaching job there.  She asked if I wanted to be her assistant that year. While it was difficult to explain things rather than just execute them myself, it was a lot of fun.  I enjoyed coaching with her and the challenges that come with coaching for the first time and not playing.
What goals did you create in those 6 months?
To become a good coach and learn as much as I could.  Specifically on combination play with the forwards and attacking runs.  I had the opposite understanding having been a keeper. To be a better communicator and explain things so that players could grasp what I was saying.  To win!
What was the transition from assistant coach to head coach like?
The luxury of being an assistant is that you can make suggestions, have some fun with the players…It's more casual. As a head coach, you have to make the tough decisions that are best for your program. It's not always easy making hard choices that sometimes impact a player negatively. But ultimately, you have to make those decisions.
If you could go back to those first 6 months of coaching, what would you tell yourself? 
Trust in your process. Be humble and take advice. Be willing to change and adapt.  But also trust your instincts and find your own path.