Shannon Algeo, Head Women's Lacrosse Coach at Gwynedd Mercy
Front Rush is excited to share stories from coaches across all divisions and sports. Every coach's journey begins with the first six months.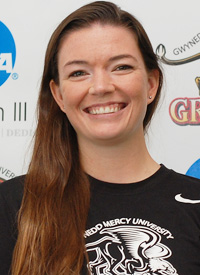 ---
How'd you get started in coaching? 
I had just finished up my master's in sport psychology in California and wanted to move back to the East Coast. I started applying for jobs everywhere from Delaware to New York. I was offered an assistant coaching job at a DIII school in Northeast Pennsylvania right before their fall ball started and I jumped at the opportunity. 
What was the most challenging part of your job?
On top of learning a new area of the country where I didn't know anyone, the transition from high school coach to college coach was a huge jump.  There's a lot to learn and athletics doesn't slow down just because you don't know what you're doing yet so it was a quick learning curve. Coaches feel really comfortable out on the field/court, but learning new school policies while getting to know all the new coworkers and athletes will always be a struggle at first.
What goals did you create in those first six months?
My main goal was to learn as much as possible as quickly as possible.  I had goals for how many recruits I wanted to be in contact with weekly/monthly.  I had goals for what I wanted to accomplish at practice, along with team bonding, fundraising, etc. My main goal was to be as innovative as possible in all aspects of the program without reinventing the wheel.
Why did you decide to start coaching?
It almost wasn't really a decision!  There was a limited number of girls' lacrosse coaches in the Bay Area, but a HUGE supply of players that wanted to learn the sport.  I was getting so many calls, texts, emails so I jumped in and tried to help as many teams/players as I could. Soon enough I was coaching a club team, started a high school program, and was giving a ton of personal lessons. Coaching came natural to me as my dad and grandfather are both football coaches, along with many of my aunts (basketball), uncles, and cousins. 
What makes you unique as a coach – is there something you emphasize as a part of your coaching approach?
My emphasis on sport psychology is one of the things that makes me unique.  I spend at least a half hour of practice every single week just focusing on my athletes' mental game.  I know a lot of coaches wouldn't want to take that much time away from the field, but just like the body, the mind needs to be trained consistently for the practice to be effective. We talk about goal setting, confidence, focus, motivation, etc. and once the athletes get used to the idea of sport psychology you can really see the impact it has on their game. Growing up on a football field also brings a unique aspect to our women's lacrosse field!
Do you have advice for new coaches?
One of the biggest things is to just be really aware of the fact that you don't know what you don't know. Don't be afraid to ask questions and get support/advice. Even if you think you know the best way to do something, always be open to learning.