Marcus Wiegert, Head 

Women's Tennis 

Coach and Assistant Men's Basketball Coach at Marian University 
Front Rush is excited to share stories from coaches across all divisions and sports. Every coach's journey begins with the first six months.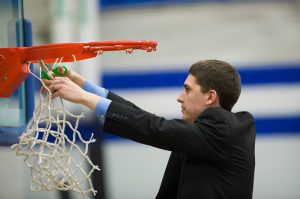 ---
How'd you get started in coaching?
I was offered an opportunity to become a volunteer basketball coach at UW-Superior (Superior, Wis.) two weeks after graduating from Marian University (Fond du Lac, Wis.) with my bachelor's degree in May 2008. At the time, I wanted to get into coaching college basketball and knew this would be the best opportunity to get my foot in the door.

I also had an opportunity to become a sports information director on-campus. I am forever grateful to Dave Buchanan (Head Men's Basketball Coach) and Steve Nelson (Athletic Director) allowing me the opportunity to gain experience and grow professionally.
What goals did you create in those six months?
At that time I was sort of flying by the seat of my pants and just hoping not to screw anything up. I was managing student workers, creating programs, updating the athletic website, learning Stat Crew and working volleyball and soccer events with the sports information position.

On the basketball side we were running camps, out on the recruiting trail, creating Photoshop recruitment mailers, and trying to soak up everything I could with college athletics. Looking back the 2008-09 school year really prepared me for everything else moving forward because I had to be extremely organized, communicate efficiently and prioritize between the two roles.
Why did you decide to start coaching?
The reason I wanted to get into college coaching was because of its competitive nature and recruiting. Early in my career it was all about wins and losses. Over the years I learned that the wins and losses don't matter as much. The relationships, network you build and the places athletics can take you is so much more valuable. 
What have you learned coaching two different sports?
It has been interesting to say the least. I played basketball in college and that has always been my passion. Tennis was completely new to me when I took over the position as head men's and women's tennis coach at Marian in 2014. Over the past four years I have learned a lot about tennis and grown more of an appreciation for those who compete on individual sports teams. My favorite quote is very applicable to coaching a sport I once knew nothing about.

"People don't care how much you know until they know how much you care." – Theodore Roosevelt
Do you have any advice for coaches in the first six months? 
My one piece of advice would be "take a risk" early in your career. If you truly want to get into coaching step outside your comfort zone and take a risk (change your career, take a pay cut, relocate, etc). It will be the best thing you have ever done.