Front Rush's new coach dashboard has 10 summary charts to help you recruit smarter. Here are 5 ways the dashboard helps keep your team's engine running. 
Each widget on the dashboard has filtering options that allow you to sift through your data. You can also easily click through widgets to get to the data you want to take action on. Our goal is to provide you with information that can be most helpful to you, so we're constantly working to update and improve our features.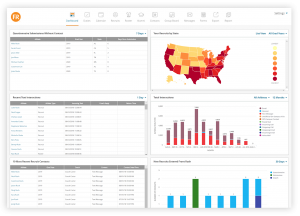 1.  Stay on top of your questionnaires
See when athletes have filled out your questionnaire

Contact those who you may have missed

Click on their name to jump to their profile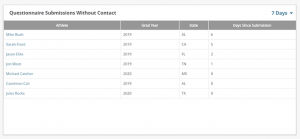 See an overview of questionnaires submitted over time

Identify your hot and cold periods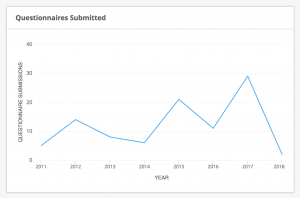 2.  Track your recruits by state
• See a breakdown of where your recruits are from – in a map or list view

• Access a "heat map" of your recruits and drill down by grad year

• From the List View, open your results and create automatic groups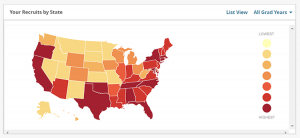 3.  Stay up-to-date on all staff interactions with recruits
Track interactions by coach on a monthly, weekly or daily basis

See who is hustling and who might be slacking

Even view communication with your Roster and Alumni!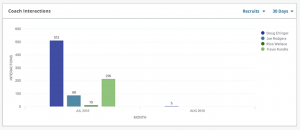 4.  Get a complete view of all of your recruit interactions
See a breakdown of your interaction types with an interactive bar graph

Hover on a bar to see detailed information on an interaction type

Learn about your interaction trends and frequency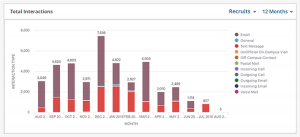 5.  Evaluate your recruiting strategy
• View how many of your bulk emails have been opened
• Drill down to one-week or 90-days worth of bulk emails and see what's working

Track how your recruits enter Front Rush – questionnaire submission, admissions lead or coach entry

At Front Rush, we understand that in order to recruit smarter, you need to analyze your data. Our new dashboard aims to provide you with information that helps you identify things to take action on, saving you time in the recruiting process.
This is just the beginning of the coach dashboard! Dive on in, check it out and let us know what you think.