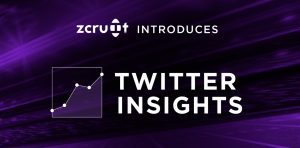 Zcruit's Twitter Insights break down the schools and coaches that prospects are liking, who they're following, and who's following them, allowing you to gauge interest and be on top of new recruiting activity before the competition.
Zcruit CEO Ben Weiss talked to us about how Twitter Insights are changing the game.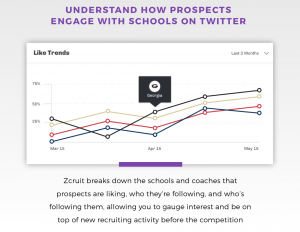 FR: How will Twitter Insights help coaches recruit smarter?
Ben: We are the first ones to really break down how recruits are interacting and engaging with different schools on Twitter – Who they're liking, who they're following, and who's following them. Comparing that in a really easy-to-digest way across all programs that are recruiting that prospect. 

It's the best way to gauge a recruit's interest in your school, where the recruit is at in their recruiting process and how they're feeling about schools. 

This is really important data to tell coaches. 

FR: Why do coaches need this data?
Ben: Recruits oftentimes say a lot of positive things to a lot of different programs, and programs will think they're in really great shape. Now you can break down the data and see who's interacting with the kid.

It's a great way to do damage control weeks or months before you even would or prepare for a case where a recruit were to flip to another school. If you're in the hunt for a prospect and not sure if you should offer other guys on your board, it helps you determine if you're the front runner or behind other schools in terms of engagements on Twitter. It's helpful to know who's your primary competition for the recruit.

This is an added layer of intelligence coaches can approach the recruiting space with. There are a lot of things we're really excited to pull out here. We think it's gonna have an awesome impact on the recruit space.