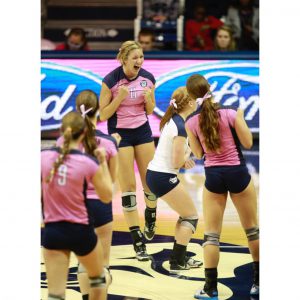 Claire Randich 
Played Division I Volleyball at Butler University
Coached men's and women's volleyball at the NAIA level and coached for a competitive travel team
What do you love about working in college athletics?
"I love the people! I think we are all very similar/ cut from the same cloth, so it's a fun working environment."
How has your coaching experience helped you in this job?
"We used Front Rush when I was coaching college volleyball, so I already had familiarity with the tools when I made the transition to college tech. I also now understand where coaches are coming from and can relate to them better! I think it helps me when I'm working with our schools."
What makes the Front Rush team special?
"We all come from different sports backgrounds, but share the same passion for athletics. We also have teammates from all over, which I think is so unique! We have nice Canadians, Chicago Cubs fans, Texans that know the best BBQ, and even those dog-loving Philadelphians."