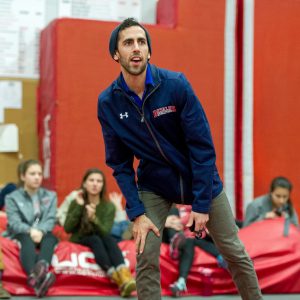 Chris Mateer
Former track & field athlete at Suny Geneseo
Coached at SUNY Geneseo, DeSales University and now volunteers with the University of Pennsylvania Running Club. 
Did you ever use Front Rush before joining our team?
"Front Rush was the bread and butter of recruitment at both schools I coached at (Geneseo and DeSales). One of my most distinct memories of my first year of coaching was sitting in the office well into the night copying an entire Excel database into our Front Rush account. Unfortunately, I was new and the head coach wasn't familiar with the data imports that Front Rush runs, so I ended with a lot of work on my hands.
This experience definitely helped me identify some of the gaps in knowledge that exist among coaches who use our product on a near daily basis though. A lot of coaches don't know what they don't know, which really makes the support and training side so important."
What makes the Front Rush team special?
"The culture and attitude of the staff here can't be beat. Not only do we help coaches use the product better and more efficiently and turn tickets around in under an hour, but we really strive to provide a positive dialogue between our users and the support staff. Whether it's playing "Word of the Day", having anyone who calls in around the holidays name a jingle, or featuring trivia in our newsletter, we keep it fun and really want to our users to reach out. We're not only here for when things go wrong!"